Westwood Contractors, Inc. was formed in 1983 in Fort Worth by Fran McCarthy and Paul Schrick as a general contracting company focused on local commercial projects and has been in continuous operation since that time. In 1987, Robert Benda (Bob), who previously served as an executive for The Bombay Company and Edison's Jewelers, purchased a majority interest in the company and assumed the position of President and Chief Executive Officer. Annual revenues at the time were in the range of $2.5 million.  Bob developed a business plan designed to expand our reach to a nationwide level, concentrating exclusively on building retail facilities for well-established national retailers, primarily public companies with well-developed concepts and strong balance sheets. In 1995, Bob purchased the remaining interest in the business, becoming the sole owner. At the time, we had grown to annual revenues in excess of $65 million, employed as many as 65 employees, and had become licensed and/or registered to perform work in 48 states.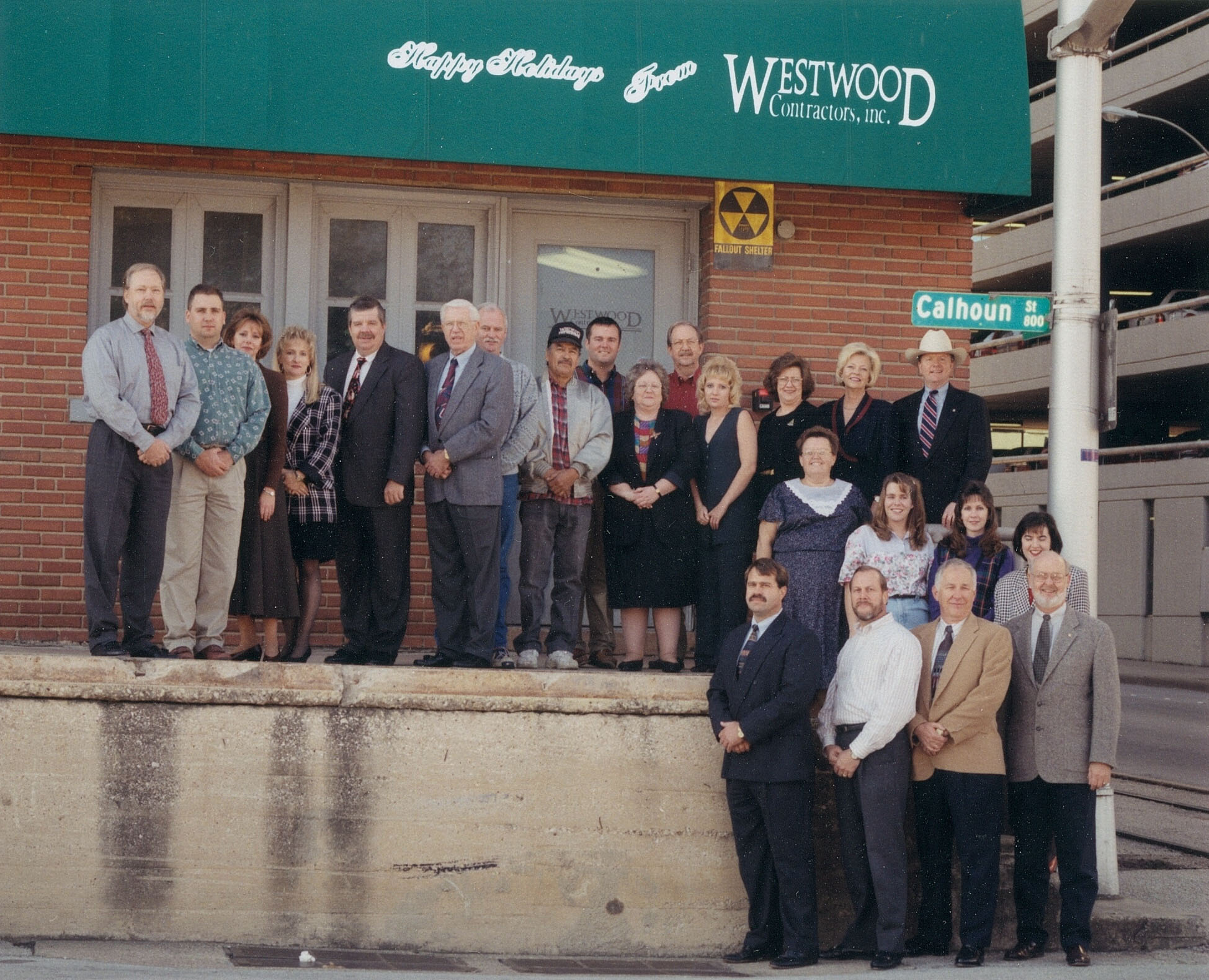 Since then, our guiding principles have provided a strong foundation for resilience and longevity. We've seen a tremendous amount of change in the industry. We've survived economic recessions which forced other companies, competitors, and clients alike, out of existence. We bounced back after a tornado devastated downtown Fort Worth, including our office. And then, there was COVID.  And although we had a slight reduction in force because of it, we remained actively working on projects while taking measures to protect our employees, our clients, and others. We were fortunate to have a team committed to overcoming these obstacles, as well as clients and business partners who remained supportive and understanding throughout every challenge we met along the way.
Today, Bob continues to lead the company as Chairman of the Board and Chief Executive Officer. A few years ago, he expanded our team to include an Advisory Board consisting of highly accomplished independent professionals to help guide us into the future. Over the years, our client portfolio has expanded beyond retail to include specialty healthcare, hospitality, high-end office projects, fulfillment/e-commerce facilities and more.   Some of our most recent clients include Amazon, Bassett Furniture, Charles Schwab, Crate & Barrel, Federal Reserve Bank of San Francisco, Five Below, H&M, Helzberg, Kohler Signature Stores, Michaels, Neiman Marcus Orangetheory Fitness, Planet Fitness, REEDS Jewelers, and Starbucks, Warby Parker.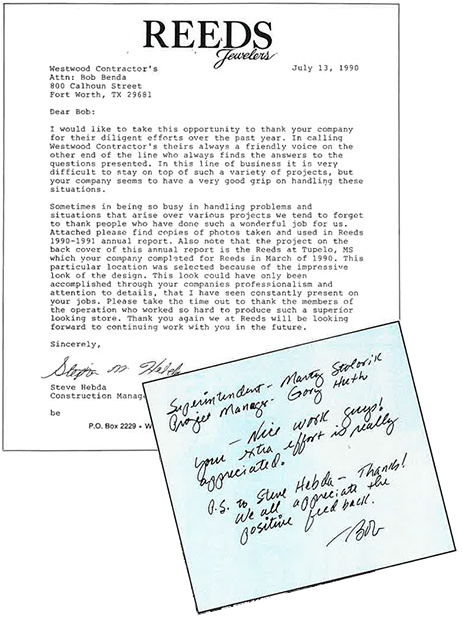 As much as things change, there are also some key elements that remain the same, and for good reason. We were a founding member of the Retail Contractors Association (RCA) in 1990 and continue to be active members today. RCA is the leading industry organization whose members are high caliber contractors committed to upholding a solid foundation of ethics, safety, quality, and professionalism within the construction industry. We are proud of our ability to consistently uphold such high standards. We believe in the industry and its relevance in our lives and in our community. We established a perpetual scholarship to be awarded annually by the TCC Foundation to a qualified student enrolled in Tarrant County College's Construction Management Program. The scholarship provides opportunities for future leaders in our industry. We believe in developing long-lasting and mutually beneficial relationships with our clients.  Our goal is to become their most trusted provider of general contracting services. We achieve this by understanding their goals and objectives, taking a proactive approach to achieve the desired results, and working to exceed expectations. Our 30+ year relationship with REEDS Jewelers is just one example. But most importantly, is our continued commitment to our values of diversity, innovation, integrity, loyalty, quality, and stewardship.  Our values are the foundation upon which our success is built.  And our commitment to our values will continue to lead us into the next 40 years and beyond.  
"As we enter our 5th decade of operations, we are grateful for the many wonderful clients and business partners who have made our success and longevity possible!  And we continue to recognize that it is our team of committed construction professionals who have earned the trust and support of our business partners to ensure that success.  We understand that to continue our great legacy of endurance we must constantly adapt to an ever-changing business environment and never rest on our past successes!  We look forward to our next decade and the guidance of our emerging leaders to continue that commitment." -  Bob