Tarrant County College (TCC) South began hosting its annual Celebration of Excellence in 2002 to recognize the academic accomplishments of students and scholarship recipients.  Since then, the event has evolved into The Celebration of Excellence Awards Program and now features several awards recognizing the excellence and achievement of students, faculty, staff, and community partners at TCC South that make TCC South exceptional. 
We have received a "Community Partner Award" from TCC South!  It's an honor to be recognized by TCC as "one of the outstanding community partners and helps students achieve their dreams."  We established the Westwood Contractors, Inc. Scholarship in 2014 to provide scholarships for deserving students enrolled in TCC South's Construction Management Program.  As reported by TCC (July 29, 2020), the fully endowed scholarship has a balance of more than $34,000 and will continue to fund the scholarship for years to come.  It's an excellent way for us to be good stewards of our community and it opens doors for the future leaders of our industry.  In that spirit, Westwood has also provided internships for several TCC students, some of whom successfully turned their internship into a full-time position with the company.   
"Scholarships likewise have been vitally important to TCC students, especially during these uncertain and critical times.  We continue to be so thankful for individuals and organizations who stepped forward and have established endowments to support scholarships and programs.   It is these funds that launch students on their educational journey and without which their educational dreams would never be fulfilled," C. Joe McIntosh, Ed.D, Executive Director, Tarrant County College.
We are very proud of our association with TCC South!  It provides a quality education at an affordable cost.  It's an excellent choice for those who are considering a career in construction and other fields.
TCC South's Celebration of Excellence was held as a virtual event this year due to the COVID-19 pandemic. To view the virtual celebration, please visit TCC's website:  https://news.tccd.edu/2020/07/22/virtual-celebration-honors-students-staff-and-faculty/?fbclid=IwAR23K9wATt6FnjOxFRWjOK5RoIuYZh0KbeDlpF307M-XEo_k0ThBmWZ30iI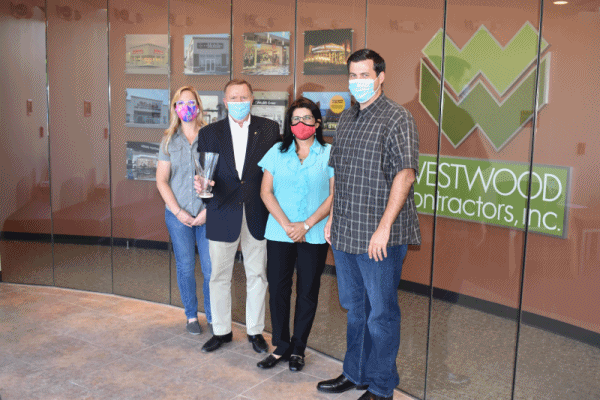 The award was delivered to our office where members of our Executive Team graciously accepted it on behalf of all our employees without whom our commitment to such programs would not be possible.  Pictured from left to right:  Marena McCorbin - HR & Payroll Manager, Robert Benda - CEO, Angelica Palacios - Director of Marketing, and Andy Bohon - Senior Vice President & CFO.  Unfortunately, Mike McBride - President & COO could not be present.  We got a bit of a chuckle when we realized our big smiles were hidden behind on face coverings!